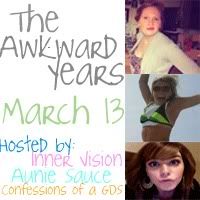 Oh what a great blog hop idea!
Now I get to show my awkward pictures and it won't

be awkward...
o.O
You see, just saying "That's so awkward" about a picture
is not enough. There are so many stages of awkward pictures. Let me show you.
The "I'm eating" awkward pose.
The "I'm doing the peace and I think I look cool"
The "I'm so fly"
The "funny face"
The "I look so cute don't I? I'm pretending to show you my
object, but I really want you to see me"
The "blowfish"
hahahahhaha.....
The "I'm so bored at my own party"
(not really....the photographers just happened to catch my face like that at that moment...)
And those are some of the many many awkward stages of awkward photos.....